Tours
Fisher Charter Service provides sightseers and adventure seekers with tour bus charters throughout New England.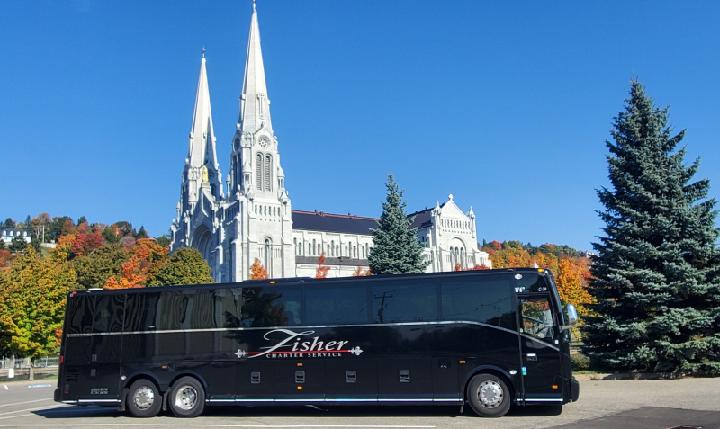 Tour the Beauty of New England in Comfort & Style
Are you ready for an exciting new adventure? Discover all the stunning New England sights and scenery with exclusive tours and regional charters from Fisher Charter Service! We proudly offer a variety of tour packages guaranteed to entertain you and your guests in comfort and one-of-a-kind style. Learn more about our fun-filled tour bus packages and book your New England tour today!
Explore Our Tour Packages
Take a Trip Toward Endless Possibilities
Gather friends and family and treat yourselves to a memorable New England experience you won't find anywhere else! We have thoughtfully curated a wide selection of tour packages offering thrills for adventure seekers of all ages and interests. Travel to your next unique destination in upscale luxury aboard one of our spacious charter vehicles that feature premium, state-of-the-art amenities designed with your relaxation in mind. Whether navigating through the region's many beautiful and awe-inspiring natural landscapes or having a group outing filled with shopping, dining, and entertainment, take the journey with Fisher Charter Service and we'll show you all the fun festivities New England has to offer. Explore our tour packages today and discover the brilliance of New England!
Explore Our Packages & Book Your New England Tour Today
Our tour packages at Fisher Charter Service offer fun for everyone, regardless of preferences. From enjoying fun and games at luxury resort casinos, basking in the fresh air, taking in panoramic views and foliage, or getting your holiday shopping out of the way, our New England tour packages are sure to satisfy. Enjoy unmatched comfort and lounge on our pillowy seats while stretching your legs with ample room and personal space. Our professional chauffeurs are trained, certified, and dedicated to getting you to your destination safely and on time. All you need to do is enjoy the scenery on the way there!