About Us
Fisher Charter Service is a reputable transportation company getting New England travelers safely and efficiently to their destinations.
Open communication with customers is crucial to our success. We are constantly upfront and honest with our customers. Travelers know they can trust our drivers and chauffeurs from the beginning to the end of their journey.
Getting our customers to their destination on time is a top priority for our drivers. When you ride our charter, you'll feel confident knowing our team has carefully coordinated every aspect of your travel.
Fisher Charter Service is a proud pillar of the community with over 50 years of proven service for our neighbors and the greater New England region. Family-owned and operated, we hold our customers dearly.
As a family-owned and operated business, we live out our values in every service provided. We hold our drivers, chauffeurs, and other staff members to the highest moral standards, and they do the same for themselves.
From busing children to and from school to taking adventurers on multi-day trips, our trained and licensed drivers adhere to the most rigorous safety protocols and practices. Safety is the most important quality to us.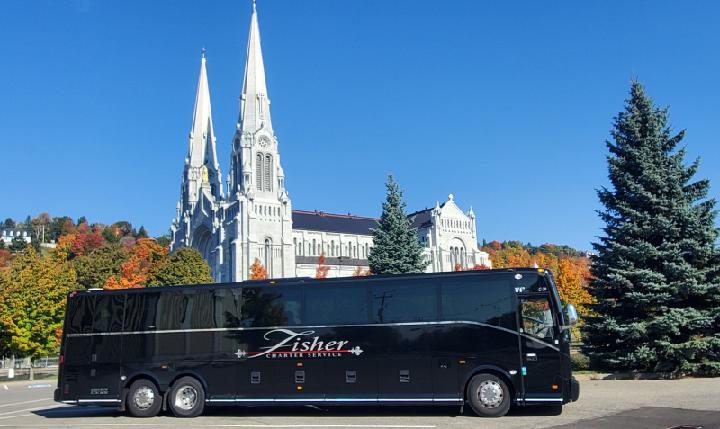 Over Five Decades of Excellence
Fisher Charter Service was founded in 1971 by Sally and Charlie Fisher. Sally and Charlie started off with one school bus serving our local school system, picking up and dropping off students at their school events. Our business quickly earned a sterling reputation for integrity, honesty, and reliability, which helped us grow into the dynamic company we are today. Our services expanded from school bus transportation to a wide array of options available for hire. Now in our third generation, we offer safe and comfortable charters and tours, getting New England travelers where they need to go.
An Unmatched Commitment to Your Safety
Safety is everything on the road. As a family-owned business, we treat your family as members of our own and keep them secure at all costs. To demonstrate our dedication to safety, we always have a compliance manager on staff who monitors our drivers and vehicles. Our drivers and chauffeurs undergo continuous and rigorous professional development and safety training. We rigorously follow federal guidelines as it pertains to random drug screening and safety training. Our vehicles are routinely inspected to ensure they are fully prepared to hit the road.