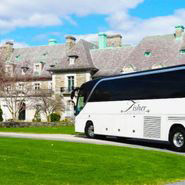 "We used Fisher Bus to transport our guests from three different hotels to and from our wedding at Glen Manor. We then later decided to use the same buses earlier in the day to transport the bridal party from two separate locations to Glen Manor rather than get limos and the additional cost was nothing compared to having to do a second rental of limos. We had the motor coaches and they were perfectly clean and all our guests were very comfortable! "
– Allison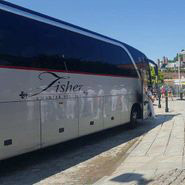 "On behalf of Joe and I to give you all the biggest THANK YOU! Because of the hard work and devotion from each one of you – Joe and I had the most perfect, amazing, and magical wedding. Down to the last detail, everything was exquisite and far surpassed all of our wedding dreams!
Once again, we thank all of you from the bottom of our hearts and appreciate all of the amazing work and your extraordinary talents! What an amazing weekend – we are still on cloud 9!"
– Mr. & Mrs. Joseph Williams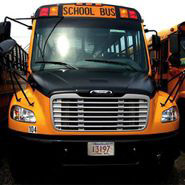 "We rented a school bus for 12 hours on our wedding day. We had multiple pick up and drop off points, and multiple venues. The bus made things so easy and it was great to not have to worry about people getting to where they were supposed to be, on time. We even used the bus to transport guests to and from the after party. This was an amazing value, highly recommend!"
– Maura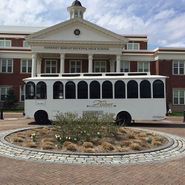 "Fisher was great to work with! We rented the white trolley and it looked awesome! Our driver Steve was great and even made an unplanned stop along the way to the reception. He was on time and courteous and the trolley was clean and looking great! They were responsive with and affordable. We loved our trolley and experience with Fisher Cus Co."
– Jennifer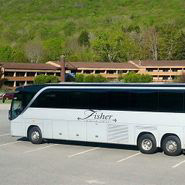 "Just a note to let you know that the Blackstone Valley Piecemakers were very impressed with the quality of the bus and the professionalism and courtesy of the bus driver for our trip. We will definitely be calling on you again!"
– Barbara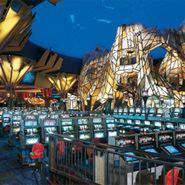 "It's always a pleasure taking our annual bus trip to Foxwoods with Fisher Bus. Your bus drivers are very courteous and polite to our passengers."
– Happy Forever Customer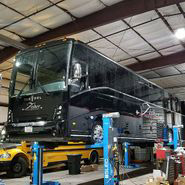 "The best bus company around, we have used their services 5 times so far. Very clean buses, very nice drivers, very pleasant experience."
– Michael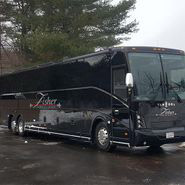 "Fisher Bus was flexible and accommodating. They provide a great value for their services. They were timely and provided nice transportation. Would highly recommend for weddings!
– Alice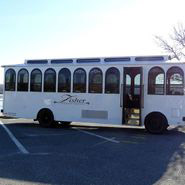 "I used Fisher Bus for my wedding transportation and my driver was AMAZING! He was funny and charismatic. I have a picture with him right before walking out with my dad. He was an AWESOME driver—he somehow managed to get himself out of a very tight spot without any issue at all. I would 100% recommend Fisher bus without any reservation!"
– Maura