Weddings
Enjoy your special day with our New England wedding charters. You'll make memories without a care in the world.
We Keep Weddings on Track
Bridal and Bachelor Parties
Start celebrating early by riding in style. Our buses will take your bridal shower, bachelorette, and bachelor parties to your destinations and keep every passenger safe from beginning to end. We help you have fun!
Rehearsals and Photography Sessions
We help brides, grooms, and wedding parties prepare for the big day. Our responsible and efficient chauffeurs will consult with you on your wedding's logistics to ensure smooth rides throughout your rehearsal and photo shoots.
Safety is a top priority for our chauffeurs. From the moment your guests arrive at your ceremony to when they leave the reception, we will coordinate their rides and ensure they return in comfort.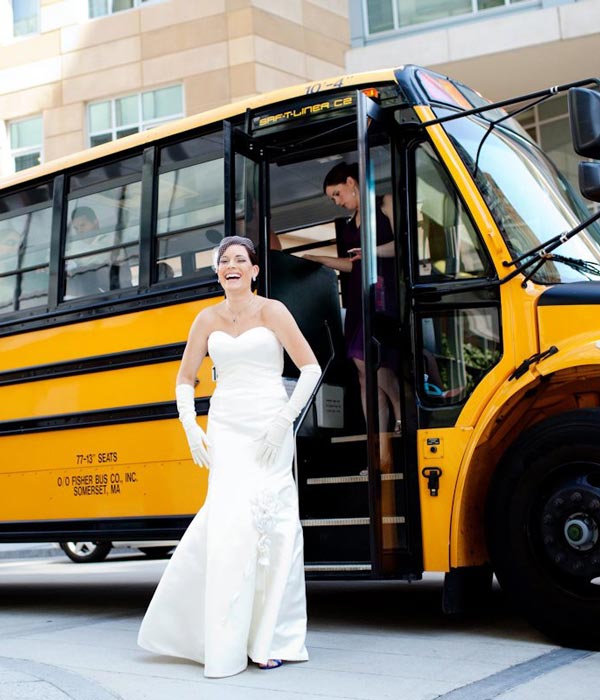 Five Decades of Fulfilling Special Days
At Fisher Charter Service, we know that your wedding is among the most important events that will happen in your life. Getting you, your love, and your guests where they need to be safely and on schedule is essential to staying happy during your wedding. Our company of chauffeurs possesses intimate knowledge of venues and hotels throughout the area. We know exactly where your wedding party needs to go, and we'll get you there promptly. Our passionate professionals will coordinate your wedding travel plan's every aspect and provide a clear, concise itinerary. Ride into your happiest day with ease by choosing us.
Congratulations on Your Budding Engagement!
We're a third-generation family-owned business that's arranged, coordinated, and kept brides and grooms safe on their wedding day for over 50 years. As a family-owned and operated company, we understand the importance of keeping your loved ones secured and comfortable throughout your wedding. We treat your friends and family as if they were our own, providing them with the amenities and accommodations needed for an unforgettable event. Our luxury charter fleets are outfitted to your desires, and they'll get everyone involved in your wedding to and from their destinations on time and in style.